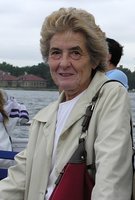 Anna L. Radler
Anna Louise Radler, 91 years old of Union N.J. entered into eternal rest on November 08, 2020.
Anna will be lovingly remembered by her three children. Robert and his wife Kathryn, Ann Marie and her husband James. John and his wife Elizabeth and "Oma" to her seven grandchildren: Nathan and Adam, Grace and Nicholas, and Kirstin, Meghan, Caitlin.
Anna is also survived by her sister Eleanor and godchildren Stephan, Kathleen, Lisa and many other loving family and friends.
Anna was a devoted wife, mother and grandmother who's joy in life included cooking, baking, cleaning and devoting her time to her family.
Viewing is private. A Funeral Mass will be offered on Wednesday, November 11, 2020 at 10:00 a.m. Holy Spirit Church, Union N.J.
In lieu of flowers, donations to her memory to St. Jude Children's Research Hospital, 501 St. Jude Place Memphis Tenn. 38105 would be appreciated.