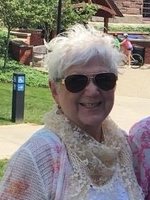 Mary Louise Tackas
Mary Louise Tackas (McCurry), 80, passed away at home in Asheville, N.C., on Monday November 9, 2020, after a brief illness. Relatives and friends are invited to attend the Funeral Mass at Our Lady of Sorrows Church, 217 Prospect Street, South Orange on Monday, Nov 16th at 10:30AM. Interment at Holy Sepulchre Cemetery, East Orange, NJ. Visitation will be held at Preston Funeral Home, 153 South Orange Avenue, South Orange on Sunday from 1:00 -5:00 PM. In light of the current restrictions on public gatherings during the pandemic, funeral home attendance is limited. Though we encourage people to come and pay their respects, we respectfully request that you keep your visit at the funeral home brief.
Mary Lou was born on January 31, 1940, and lived in South Orange, N.J., for many years. Proud alumna of MaryLawn of the Oranges and Chestnut Hill College. She was the owner/operator of Décor Par Veronique, an elite interior design business, until her retirement in 2004. That same year, she moved to Asheville. A long-time associate at Cracker Barrel there, she also devoted her talent and energy to a variety of interests: handler of a Certified Therapy Dog (Suki), President of Sunset Ridge Homeowners Association, traveler to worldwide destinations, lover and rescuer of many dog friends, and patron to numerous charitable groups. She was a devout Catholic throughout her life.
Mary Lou was predeceased by her parents, James and Louise McCurry; her devoted aunt, Adeline Valle; and her dear companion, W. Frederick Muenzel. She is survived by her three daughters, Curry Bucu (Allan), Catherine Bolger (Mike), and Anne McKibbin (William); her grandchildren: Allanah and Sienna Bucu; Erin, Katie, Brian, and Tom Bolger; Haley Houston (Jesse Kelly) and Alexandra McKibbin; great-grandsons, Jack and Connor Kelly; and life-long friend, Diane Frisoli Nolan.
In lieu of flowers, contributions to Brother Wolf Animal Rescue in Asheville, N.C., at bwar.org. would be appreciated. For more information please visit www.prestonfuneralhome.net