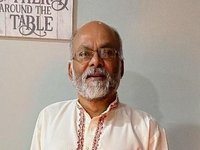 Prakash Rampersad
Prakash Rampersad, 67, passed away on Wednesday, November 19, 2020, after a sudden heart attack.
Prakash was born on December 12, 1952 in Trinidad and lived in South Orange, NJ for 25 years. He worked as an auto mechanic and retired about 5 years ago. He devoted his life to his wife and kids. Prakash traveled the world and enjoyed life to the fullest. He will lovingly be remembered by his wife Bissundai and four kids, Lennard, Anjannie, Jason and Renuka.
For Prakash friends and loved ones we will be making it possible to attend online via livestream on Sunday, November 22, 2020 starting at 11:00 AM followed by a service at 11:30 AM.
Please click on link below :