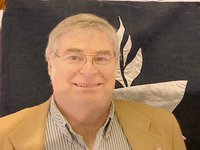 Thomas P. Kelly
Thomas Peter Kelly of Millburn, passed on December 19th 2020 due to dementia that was complicated by a fall. He is survived by his loving wife of 58 years, Kathleen (VanKonynenburg), his son Dirk and wife Jacqueline and his grandsons Thomas, Steven and Daniel of Newton, New Jersey, and his daughter Jennie, her husband Scott McIntyre and grandchild Oscar of Thousand Oaks, California.
Tom was born on August 26th, 1930 in Morristown NJ. He attended Morristown High School and then Maryville College in Tennessee. At Maryville he studied political science and ran cross country, graduating with a BA in political science in 1952. While at Maryville he enrolled in ROTC and eventually served as a Captain in the US Marine Corps during the Korean War. On his way to Camp Pendleton en route to Korea, he stopped in Independence, Missouri where he met and discussed political issues with former President Harry S. Truman. At the conclusion of the war he was Honorably Discharged (1954). He then served in the USMC Reserves and attended the University of Michigan Law School.
After graduating from law school in 1957, he worked with the law firm of Murray and Murray in Orange, NJ and then was a solo practitioner for 53 years. During his law career he was a defense attorney for men accused of starting the Newark riots, and argued cases in front of the NJ Supreme Court. Tom practiced law until he was 85 years old. He was active in the City of Orange politics, served as the Chairman of the Orange Opportunity Corporation, the Orange Board of Education and worked to get the new Orange High School built. He ran for Orange City Council twice and helped to get the first African American City Council member elected. Tom was the City Attorney of Orange for 5 years, a job that he loved.
Tom enjoyed sports, history, music, the railroad, and politics. His favorite team was the Brooklyn Dodgers until they moved to Los Angeles. Then, he was a Mets and sometimes Yankees fan. He was also a super fan of the University of Michigan football team. He would arrange to take his grandchildren to games at the "Big House" and to Wrigley Field. He was a voracious reader of history especially anything that had to do with WWII. Every year he urged his family to remember Pearl Harbor Day. Tom loved music, especially Bach. Tom's father was a Pullman Conductor on the Chicago Limited, so Tom grew up riding the rails. He often planned train trips to various locations. He was a lifelong member of the Democratic party often exchanging letters with both Democratic and Republican leadership.
He will be remembered as a kind and gentle husband, father, and grandfather.
In lieu of flowers please make donations to the American Civil Liberties Union,125 Broad Street, 18th Floor, New York, NY 10004 or www.aclu.org/give.
For more information or to send condolences please visit jacobhollefuneralhome.com