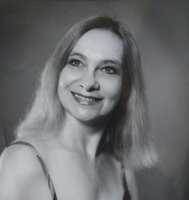 Betty Ann Houser
Betty Ann Houser, 86, of Morris Plains, NJ, died peacefully on December 31, 2020.
Betty was born September 26, 1934 in Lower Nazareth Township, PA. She was one of ten children of the late Russell and Mildred Dieter Houser. Betty was the wife of the late Alan Rosenberg with whom she shared a deep love of music.
She was a noted singer and sang with the Bethlehem Bach Choir for many years. She also sang with Opera groups in New Jersey and performed at Carnegie Hall, Lincoln Center and most notably at Notre Dame Cathedral in Paris. She also performed with her late husband's jazz groups and big bands for thirty years. Her thirty year career included seventeen years at AT&T, ten of them as Chief Steward of CWA Local 1058. She also worked for the American Heart Association as a CPR instructor for five years.
Outside of the workplace, she loved knitting for her family and friends, and had many interests and hobbies, among them prize-winning needlework, painting, gardening and travel. Betty was also a passionate advocate for women's rights and marched with Gloria Steinem in the early 1970s.
She is survived by her five children, Lynn Hellstrom Mitchell, Kurt Hellstrom, Jennifer Shirley, Kristen Hellstrom and Lars Hellstrom; grandchildren, Simon Meade, Nils Hellstrom and Laura Shirley; great grandchildren, Oliver Meade, Avalyn Meade and Penelope Hellstrom; and many nieces and nephews.
A graveside service and burial will be held at noon on January 6, 2021, at Hope Cemetery in Bethlehem, PA
Betty was a voracious reader who loved and supported her local library. Donations can be made in her memory to: Friends of the Parsippany Library, In Memory of Betty Ann Houser, 449 Halsey Road, Parsippany, NJ 07054.