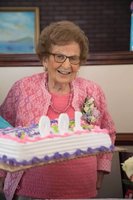 Louise E. Gili
Louise meant a great deal to so many.
For Louise's family and friends you will be able to view the Funeral Mass online on Saturday, January 9th at 10:45 AM. Please click on the link below :
YouTube.com/user/stroseshorthills
Louise E. Gili , 103, passed away peacefully on January 13, 2021.
She was the beloved daughter of the late Paul and Johanna (Marcantonio) and devoted sister of the late Terrance.
An enthusiastic lifelong resident of Millburn, N.J., Louise had a love for people, traveling the world, and entertaining. She had a strong commitment to her profession and her community and was a school nurse in the Millburn school system for 35 years before retiring in 1987.
She was a founding member of the Seton Hall School of Nursing Alumni Association, the Essex County School Nurses Association, and the Millburn Retired Teachers Association.
Louise was a 2011 recipient of the Lifetime Achievement Award for Volunteer Service from Overlook Hospital in Summit after serving as volunteer coordinator for the Pediatric Orientation Program and past chairwoman of the Overlook Auxiliary's Short Hills Twig. Louise dedicated 50 years of service to the Millburn/Short Hills Red Cross and was an active member of the Rosary Society and Ladies Auxiliary at St. Rose of Lima Church.
Surviving are her nephew Paul Gili and his wife Nancy; great-niece Stacey and her children Gianna and Presley; and a host of loving cousins and devoted friends.
Her motto was "enjoy it all" and she surely did. She will be greatly missed by all who loved her.
To protect family and friends during the pandemic, the funeral mass and burial will be private. A celebration of Louise's life will be held when it is safe to do so.
In lieu of flowers, donations may be made to Overlook Auxiliary at Overlook Medical Center.
For more information or to send condolences please visit jacobhollefuneralhome.com