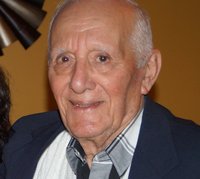 Philip S. Metta
Philip meant a great deal to so many.
For Philip's family and friends you will be able to view the service online please click on the link below :
Philip S. Metta, 94 of Forked River formerly of Maplewood passed away at Ocean Medical Center on January 12, 2021.
Relatives and friends are invited to attend the Memorial Mass at Our Lady of Sorrows Church 217 Prospect Street, South Orange on Tuesday, January 19th at 10:30 AM. Interment is private.
Philip was born in Orange and lived in Maplewood before moving to Forked River 40 years ago. Philip was a firefighter for the Township of Maplewood for many years before retiring in 1983. He was especially proud that even while working full time he was able to receive his bachelor's degree in Special Education from Newark State College (now Kean University) with the help of his brother firefighters.
Philip was the beloved husband for over 68 years to Antoinette Nardone Metta, devoted father of Angela Konieczny and her husband Robert and Phylis Metta, and loving grandfather of Melissa, Amy and Matthew, as well as, many loving nieces and nephews.