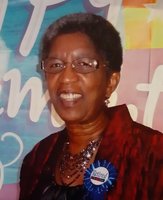 Jean A. Arthur
Jean A. Arthur, 82 of East Orange passed away on Tuesday, January 12, 2021 surrounded by loved ones.
Jean was born in Grenada, West Indies and lived in East Orange for the past 45 years. She earned her nursing degree from Jersey City State College. Jean dedicated 40 plus
years to caring for patients at Presbyterian Hospital and Morristown Memorial Hospital until she retired in 2011. She was a very active and devoted member of the St. Joseph's Church in East Orange. She enjoyed sewing, reading, and watching Jeopardy.
She is survived by; her loving husband of 58 years Raymond Arthur, her two sons Ian
(Vanessa) and Raoul Arthur, siblings Ester O'Neale, Roy O'Neale, Pearl Gabriel and Kenneth O'Neale. She is also survived by five grandchildren Kristine, Randall, Raichelle, Ianna and Katharine, nieces, nephews, cousins, family and friends.
Visitation will be held at The Preston Funeral Home, 153 South Orange Ave, South Orange on Saturday, January 16, 2021 from 1:00p-3:00p. Due to current restrictions regarding the
pandemic, funeral home attendance is limited therefore the service and interment are private. Only family and friends that have been invited may attend.
In lieu of flowers, the family is requesting donations to St. Joseph's Church, 110 Telford Street, East Orange, NJ 07108.
For more information or to send condolences please visit prestonfuneralhome.net