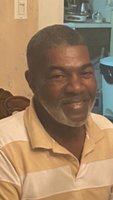 Julius Higgins
II Timothy 4:6-8 "For I am already, being poured out like a drink offering and the time for my departure is near. I have fought the good fight, I have finished the race and I have kept the faith. Now there is in store for me the crown of righteousness, which the Lord, the righteous Judge, will award to me on that day -and not only to me, but also to all who have longed for his appearing."
Julius Higgins was born September 27, 1952 in Columbia, SC. He passed away at St. Clare's Hospital in Dover, NJ on Friday, February 5, 2021, after a brief illness. He was the son of the late David Higgins Sr. and Bertha Hugee. He was raised by Rufus and Carrie Gathers, who proceeded him in death.
Julius was a beloved husband, loving father, grandfather, wonderful son, adoring brother, avid Seahawks fan, and a loyal friend (like a brother to many). He was a true- born 'nature enthusiast'. He was alacritous and loved any opportunity to experience nature and the outdoors.
Julius was a smart, quiet, and sweet man who especially loved fishing, working in the yard, playing pool, and hanging out with his friends. He enjoyed watching CNN and MSNBC news network channels…he loved to debate current worldly issues. He also loved old western TV shows and telling wild stories.
Julius was one of a kind. He was charismatic, kind, caring, and a cheerleader for the less privileged. He possessed a true genuine smile and an infectious laugh.
Julius was a well loved and respected man who leaves a huge void in the lives of everyone he touched. He will be sorely missed by all who knew him!
Julius' love of Jesus Christ began at an early age. As a youth, he joined and was baptized at Hickory Hill Baptist Church in Eadytown, SC.
Julius grew up in Eadytown, SC and graduated from Central High School in 1970, in Cross, SC. He worked for General Motors before retiring in 2006, after 33 years of dedicated and loyal service.
Julius wasdevoted to his faith and passionate about his love for his family and his friends. He was predeceased byhis siblings: Joseph Gathers, Pernell Leak, Louis Gathers, Willie B. Higgins, Joe Louis Higgins, and Kalvin Higgins. Heleaves to cherish his fond memories:his loving and devoted wife of 32 years, Rosa, his three adoring daughters: Janique Booker, Atlanta, GA, Alea Hill, Charlotte. NC, and Joslyn Higgins, Newark, NJ. One granddaughter, Ma'Jaya Clark; Siblings: Trudy Gathers, a special niece, Erika Gathers, Willngboro, NJ, Bernice Wallace (Nathaniel), St. Stephens, SC, David Higgins Jr.(Brenda), Eastover, SC, Shirley Ann Higgins, Eastover, SC, Bernard Higgins (Elaine),Columbia, SC, and Michael Higgins, Columbia, SC; Brothers and sisters in law; Brenda and Gertrude Gathers, Rev. Sam Lucas (Thelma), Nathaniel Hill (Gloria), and McArthur Hill (Rena); and a host of admiring nieces and nephews, cousins and adoring 'forever' friends.