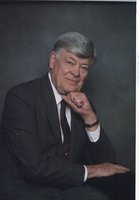 James Cyril Rohrer
IF YOU WILL BE ATTENDING THE FUNERAL SERVICE,
MORROW MEMORIAL CHURCH WOULD LIKE YOU TO REGISTER FOR THE SERVICE. PLEASE CLICK ON THE LINK BELOW: Click here to RSVP.
For James' friends and loved ones, unable to attend his Funeral Service in person, we will be making it possible to attend online via livestream starting at 11:00 AM on Wednesday, May 5th. Please click on link below:
https://client.tribucast.com/tcid/89103646
James Cyril Rohrer, 93, passed away on Wednesday April 28, 2021 in Richmond, VA. Formerly of Warren NJ, he was born and reared in Gary IN, a son of Czech immigrants. He also lived in Westfield, NJ, Wheaton, IL, Memphis, TN and recently, Richmond, VA.
Services will be held at 11am on Wednesday, May 5 at Morrow Memorial Methodist Church, 600 Ridgewood Rd., Maplewood, NJ. To attend the service, an RSVP to [Morrow link] is required. A live-stream, later archived, can be viewed at jacobhollefuneralhome.com. Interment will follow at Rosedale Cemetery, Orange Rd, Montclair.
Mr. Rohrer's career with Exxon Research and Engineering spanned 42 years, beginning as a researcher in NJ with Standard Oil Development Company and including multiple US and world assignments, retiring as a Sr. Staff Engineer in Products Research. He earned a BS in Chemical Engineering from Purdue University in 1952, having served as president of Alpha Kappa Lambda fraternity and was a member of Tau Beta Pi Engineering Honor Society.
As an army sergeant, he spent a year as Section Chief of Public Health in MacArthur's Military Government Team in Kofu, Japan. He was decorated with the World War II Victory Medal and Army of Occupational Medal Japan.
He was a faithful member of Union Village United Methodist church and their choir for nearly 4 decades.
Predeceased by a brother William, and his wife of over 44 years, Kathryn Greenwood Rohrer, he is survived by their children Sue Ellen Rohrer Leys (Martin) of Maplewood, NJ, David William Rohrer of Sandy, Utah, and James Philip Rohrer (Rachel) of Richmond, VA, 5 grandchildren: Kathryn Peery Fuerst (Nicholas), James Philip Rohrer, Jr. ( Lisa), Quinn Marie Rohrer, Carolyne Noble Leys & Eliza Greenwood Rohrer, 2 great-grandchildren, 2 nieces and 2 nephews.
Memorial contributions are welcome in memory of James to
The Amedysis Foundation, Web Link: About The Amedisys Foundation or you can mail to 3854 American Way, Suite A, Baton Rouge, LA 70816
New Jersey Symphony Orchestra
Development Department,60 Park Place, Suite 900,Newark, NJ 07102
Web Link:Make a Gift | New Jersey Symphony Orchestra