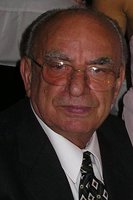 Vito Ceglie
For Vito's friends and loved ones, unable to attend his Funeral Mass in person, we will be making it possible to attend online via livestream starting at 10:00 AM on Wednesday, May 26th. Please click on link below:
https://boxcast.tv/view/vito-ceglie-funeral-mass-bjd8tyama4t65meflfd9
Vito Ceglie, 91 of Maplewood passed away on May 22, 2021.
Vito was born in Bari, Italy in 1930. Under the guidance of his father, Giovanni Ceglie, he became a master tailor working at the Ceglie family business. Not content to remain a tailor, Vito explored a more exciting path as an amateur pugilist until 1965, when he embarked on a new adventure across the sea to join his sisters, Rosa and Liliana, in America. A little more than a year later he met the love of his life, Carol, in English class in Elizabeth, New Jersey. Though they were both just learning English at the time, with neither speaking the other's native language, they shared a passion for ballroom dancing and fell in love on the dance floor. They married in 1971 and raised their three children in Maplewood.
Vito worked as a quality control manager for Bristol Myers in Hillside for many years. He was a member of the Knights of Columbus in Union and faithful parishioner of St. Joseph's Parish.
He was predeceased by his son Anthony Vito Ceglie. A beloved husband, father, brother, uncle and grandfather, Vito is survived by his wife Carol Urbanija Ceglie, children John and his wife, Patricia, and Marco and his wife, Kristen, siblings Nicola Ceglie and Wanda Fracchiolla, and grandchildren Anthony, Adriana and Nicholas.
Relatives and friends are invited to attend the Funeral Mass at St. Joseph's Church, 767 Prospect St., Maplewood, on Wed, May 26th at 10:00 AM. Entombment will follow at the Hollywood Memorial Park, Union. Visitation will be held at The Jacob A. Holle Funeral Home 2122 Millburn Ave, Maplewood on Tuesday, 5:00 – 8:00 PM.
In lieu of flowers, donations are gratefully accepted for the maintenance and upkeep of St. Joseph's Parish.
For more information, or to send condolences, please visit jacobhollefuneralhome.com