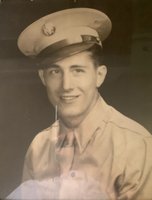 Anthony J Cappaze
Anthony "Tony" Cappaze passed away peacefully at home on Friday, May 21st. He was 97 years "young."
The family will be receiving friends at Preston Funeral Home, 153 South Orange Ave., South Orange on Wed May 25th from 8:30-9:30 AM followed by a Funeral Mass at Our Lady of Sorrows Church, South Orange at 10 AM. Interment is in Gate of Heaven Cemetery, E. Hanover.Tony lived most of his life in South Orange, but spent the last few years at his summer home in Manahawkin reading the Daily News while enjoying the view from the deck and going to the casinos.
Tony proudly served in WWII, where he fought in the Battle of the Bulge on French territory. This was a major German offense in Europe, lasting a month and known as "The Greatest American Battle of WWII." He was the recipient of the American Service Medal, European African Middle East Service Medal, and Good Conduct Medal.
Tony had a career as a carpenter at Westinghouse in Newark, NJ. He was proud of his Italian heritage and became of member of Society Savoia in South Orange, where he hung out with "the guys" each week. He loved big band music and going to dance halls on Friday evenings.
Tony was a true patriot and supporter of all Veterans, a proud Italian gentleman, and a loving husband and family man. He enjoyed visits and dinner with family and spending holidays together.
He is predeceased by his wife Concetta "Connie" Cappaze (Verano), his sisters Giovanna "Jenny" Mariani, Domenica "Minnie" Cassie, Mary Ann "Dolly" Cappaze and his brother Frank Cappaze. He is survived by his sister Florence Handley and his brother Joseph Cappaze and more than two dozen nieces and nephews spanning three generations.
In lieu of flowers please send donations to the Wounded Warriors at https://support.woundedwarriorproject.org/.