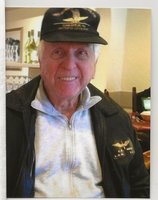 Albert A. Kubichek
Albert A. Kubichek, of Short Hills, age 96, beloved husband, father, and grandfather, passed away peacefully at home Friday June 4th.
He was predeceased by his parents, Andrew and Maria Kubichek. He was born in Newark and lived in Maplewood, attending Seth Boyden Grammar School and Columbia High School.
He left high school May of his senior year to enlist in the Navy during WW II. He served in the Pacific theater aboard the escort carrier USS Gambier Bay. The ship was shelled during the Battle of Leyte Gulf on Oct. 25, 1944. He survived the sinking and was rescued after 43 hours of treading water. After celebrating V-J Day in Times Square, he was honorably discharged and returned to Maplewood.
He attended Lincoln Tech where he learned the electrical trade and started his own electrical contracting business, Maplewood Electric. He designed and built a home in Short Hills where he resided for 55 years with his family.
Albert is survived by his wife of 56 years, Barbara Polidor Boyle Kubichek, daughters Lee Nowacek and husband Charles, Andrea Borrelli and husband John, Lisa Boyle Clifford and husband Kenneth, and Marilyn Kubichek, MD, grandchildren Katie, Hailey, and CJ Nowacek, John, Allison, and Andrew Borrelli, Jackie, Thomas, and Kevin Clifford, and his older sister Rose Inniss.
Visitation will be held at The Jacob A. Holle Funeral Home, 2122 Millburn Ave, Maplewood on Wednesday, June 9th from 4-7 p.m.
In lieu of flowers, memorial contributions may be offered to Millburn First Aid Squad, 188 Glen Ave, Millburn NJ 07041.