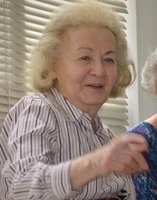 Lee T. Hoch
In Memoriam – Lee T. Hoch
To all friends of my Mom, Lee Hoch
Mom died Monday afternoon, June 7, 2021 at the age of ninety-five. She was ailing for some time with pneumonia and recurring lung cancer. She entered the hospital the week before and was sent home on Monday to be with us at the end to die peacefully in our house.
Lee was a true lady of the greatest generation, living her life with grace and dignity. She was born in Italy and immigrated with her family to America at age four. She witnessed poverty of the Depression, strife during the Second World War, joy with family and a child, and bliss with her husband for 59 years of a happy marriage with my late father, Leonard.
She traveled the world with my dad, making friends and influencing people wherever she was. She knew how to be polite, always polished and confident, and made people feel at ease around her. She was an interior designer and award-wining lighting designer. She loved to play golf. But her greatest joy was her two grandchildren, Alexandra and Victoria.
She is survived by myself, my wife, Marzena, our two children, and her sister, Mary. She will be laid to rest on Friday, June 11, 2021. Visitation will be held a Preston Funeral Home 153 South Orange Ave, South Orange on Friday, from 10:00 – 11:00 AM followed by a prayer service at 11:00 AM. Interment will be held at Restland Memorial Park in East Hanover, NJ at 12:00 PM.