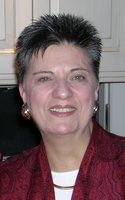 Maria J. Franzoni
For Maria's friends and loved ones who are unable to attend her Funeral Mass in person the Mass will be lived streamed on Thursday, June 24th at 10:00 AM. Please click on the link: https://www.youtube.com/user/Stroseshorthills
Maria J. Franzoni (nee Bonelli), 74, of Springfield, NJ passed away at home surrounded by her family on June 20, 2021.
Relatives and friends are invited to attend the Funeral Mass at St. Rose of Lima Church, Short Hills, on Thursday, June 24th at 10:00 AM. Interment will follow at St. Rose of Lima Cemetery. Visitation will be held at St. Rose of Lima Church on Wednesday, June 23rd from 4-8 PM. In lieu of flowers donations may be made to St. Jude Children's Research Hospital, 501 St. Jude Place, Memphis, TN 38105-1905.
Maria was born in Passaic, NJ; daughter of Rocco and Josephine Bonelli. She and her younger sister Phyllis were raised in Lodi and enjoyed the blessings of a large Italian family. Maria was a graduate of University of Dayton where she met Augie, her beloved husband of 52 years. They settled in Springfield, NJ in 1972 where they raised their family. Maria loved being a mother to her children and a Nana to her 6 grandchildren. She enjoyed sharing her love of reading children's books, cooking and baking, and telling family stories. Maria was a nursery-school teacher at Central Presbyterian Church in Summit for 25 years where she was loved and adored by her students and coworkers. Maria and Augie were faithful members of St. Rose of Lima Church where they dedicated their time serving the St. Rose parishioners and the surrounding community. Maria cherished her family and many friends and will always be remembered for her laughter, her smile, her kind and giving spirit, and her positive outlook on life.
Maria is remembered by her husband Agostino "Augie" Franzoni, children David Franzoni M.D. (Michelle) and Maria Franzoni-Wemett (Christopher Wemett), sister Phyllis Corrigan (James) and grandchildren Renata, Gianni and Autum Franzoni; Isabella, Matthew and Nicholas Wemett.