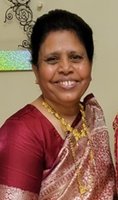 Shubhada Suryawanshi
The funeral service will be live streamed on Saturday, July 24th at 9:00 AM
Please click on the link www.aiccnj.org/zoom
Shubhada A. Suryawanshi, 68 of Maplewood passed away suddenly on July 19th.
The Viewing (Wake) will be on:
Friday, July 23rd from 5PM to 9M at
The Jacob A. Holle Funeral Home
2122 Millburn Avenue
Maplewood, NJ 07040
The Funeral Service will be on:
Saturday, July 24th at 9AM at
Asian Indian Christian Church
172 Springfield Ave, Berkeley Heights, NJ 07922
The burial will take place at:
Hollywood Cemetery
1621 Stuyvesant Ave, Union, NJ 07083
Shubhada was born in Indore, India and lived in Madison, NJ, Valley City, ND, and Pembina, ND before moving to Maplewood, NJ in 1989. Shubhada received her Bachelor's and Master's Degree at Indore University. She worked at Drew University in Madison, NJ for many years. Shubhada is survived by her husband Rev. Ashok G. Suryawanshi, children Warsha Gupta, Ashish, Asha and Dinesh Suryawanshi and grandchildren, Anish, Anusha, Joshua Abhay, Elijah Akshay and Josiah Ajay.