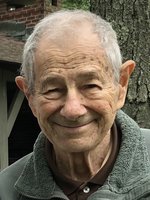 George Kopko
George Kopko, age 93, formerly of Newark/Ivy Hill, NJ, passed away on Monday, August 9, 2021.
George was born on December 11, 1927 in Newark, NJ to John and Helen Kopko. He grew up in the "down-neck Ironbound" part of Newark, NJ where he attended Eastside HS and worked for a precious metal company. His love of playing baseball led to him trying out as a pitcher for the New York Yankee's farm team. He was drafted into the Army in 1951 where he served in the South Pacific during the testing of the atomic bomb and the removal of radiation fallout. Upon his return from serving in the Army, he attended Washington Missionary College in College Park, Maryland where he studied to become a teacher. He taught at a Seventh Day Adventist Church School where he even drove the school bus. George lived with his parents and then with his older sister Ruth until she was admitted into a nursing home in 2013. George loved to walk, play tennis, visit the library, and take bus trips to NYC or Atlantic City. George spent the next seven plus years living with a foster parent family for Veterans in Clifton until being admitted into Spring Grove Nursing Rehab & Healthcare Center in New Providence, NJ in April 2021, where he resided until passing away.
Preceded in death by his parents John and Helen Kopko, sisters Ruth de Pinho and Mary Mikalus and husband Paul, brothers Albert Kopko and Thomas Kopko, and nephews Reuben Mikalus and Alex Eliot. He is survived by his brother Ben Kopko and wife Janice, sister-in-law Doris Kopko, nephew Rick de Pinho and wife Wendy, and many other nieces and nephews.
A graveside funeral service will be held at 11:30 AM on Tuesday, August 17th at Brigadier General William C. Doyle Veterans Memorial Cemetery, 350 Provinceline Road, Wrightstown, NJ 08562 with arrangements by Preston Funeral Home, South Orange.