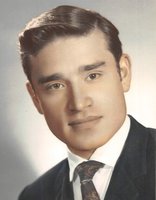 Eulogio Martin
Eulogio Martin, 79 of Maplewood passed away at St. Barnabas Hospital on August 11, 2021.
Eulogio was born in Gatecha, Colombia and has lived in Maplewood since 1976. He worked at the Short Hills Club in Short Hills for many years. Eulogio is survived by his wife Cleofe Solanilla Martin and children Betsy Grenon (Raymond) and Benjamin Martin.
Visitation will be held at The Jacob A. Holle Funeral Home, 2122 Millburn Ave, Maplewood, NJ on Monday, Aug 16th from 4:00-8:00 PM. Relatives and friends are invited to attend the Funeral Mass at St. Joseph's Roman Catholic Church, 767 Prospect Street, Maplewood, NJ on Tuesday, August 17th at 10:00am. Entombment will follow at Hollywood Memorial Park & Cemetery, 1500 Stuyvesant Avenue, Union, NJ. In Lieu of flowers, donations to American Kidney Fund, 11921 Rockville Pike, Suite 300, Rockville, MD 20852 would be appreciated.
For more information or to send condolences, please visit jacobhollefuneralhome.com.
.