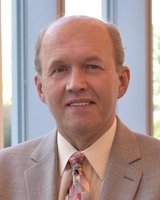 John D. Grzelewski
John D. Grzelewski, 59, of Maplewood passed away on Friday, August 13, 2021.
John's first love was his family. He met his wife Wendy (Hahn) in NYC (thanks to Jeff and Annette). She was visiting from Ohio, met John, and the rest is a love story. Like many couples they moved from Park Slope in Brooklyn to Maplewood when they were expecting their first child. They raised their sons, Luke and Adam, together in Maplewood. John loved cycling, trips to the shore, family camp at Fairview Lake, golf weekends, fishing, visiting family and attending both sons' musical performances, school and sporting events.
John's second love was music. He worked on the stage crew at Stony Brook for concerts. Summer vacations were scheduled around Maplewoodstock, the town's musical festival. John and Wendy enjoyed live music together — there wasn't a live music event that John wouldn't attend.
John most recently served as Budget Director of the Advanced Science Research Center at the Graduate Center at CUNY for seven years. John was especially proud of his work as part of the founding team that opened the Center. The ASRC integrates five disciplines at the vanguard of 21st-century global science - Nanoscience, Photonics, Structural Biology, Neuroscience, and Environmental Sciences.
Prior to that role, he worked for the MTA of NYC in the Office of Management and Budget for 22 years. John held a BS in Political Science and a Master of Science in Policy Analysis and Public Management from Stony Brook University.
John was a resident of Maplewood, NJ, for 23 years. He enjoyed learning guitar at the adult school, forming great friendships with his poker group, sci-fi book group and golfing partners.
John was the son of Stanley and Theresa Grzelewski of Staten Island, NY. He was predeceased by his siblings, Joseph, Krystyna Ortiz and Richard. John will be greatly missed by his wife, Wendy; his sons, Luke and Adam; his brother Stan; sisters-in-law Lisa, Jill and Christine; brother-in-law Tim; and his nieces and nephews: Nelson, Anais, Theo, Jake, Julie, Branyon, Scarlett, Corey, Kylin, Aiden and great-nephew Mateo.
If you'd like to make a donation in John's memory, please consider the Pulmonary Hypertension Association.
Here's the link: https://phassociation.org. The address is: 8401 Colesville Rd. Suite 200 Silver Spring, MD 20910.
John was an organ donor through the Sharing Network. Find out more here: https://www.njsharingnetwork.org. Be like John.
The family will hold a Celebration of Life for John in November.