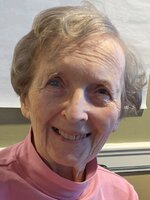 Monica K. Corbett
The Funeral Mass will be lived streamed on Tuesday, August 31st at 10:00 AM
Please click on link to view https://www.youtube.com/watch?v=KNnhpXZjJzI
Monica Kelly Corbett, lifetime resident of Newark, N.J. died August 14, 2021 at the age of 86 likely due to complications of Covid-19.
Monica was born February 8, 1935 to Mary Frances Cullen and Augustine J. Kelly, Sr. She was predeceased by her husband John W. Corbett. She is survived by her son John D. Corbett, grandchildren Alex Corbett, Miranda Longaker, sister Rose Romano, brothers A. James Kelly, Jr. and Thomas C. Kelly, sisters-in-law Eileen Kelly, and Mary Ann Kelly.
Monica received her Bachelor's Degree in English and Art History in 1956 from Saint Elizabeth University (then called the College of St. Elizabeth). She worked as a judge's secretary at the State of New Jersey Tax Court in Newark. A devout Roman Catholic, she was a parishioner of Sacred Heart Church in Vailsburg until it closed, and later St. Joseph's Church in East Orange.
Relatives and friends are invited to attend the Funeral Mass at Our Lady Of Sorrows Church, 217 Prospect Street, South Orange, NJ on Tuesday, August 31 st at 10 AM. The mass will be live streamed for those unable to attend in person.
Monica's ashes will be preserved at Gate of Heaven Cemetery & Mausoleum https://www.rcancem.org/gate-of-heaven-homepage/ 225 Ridgedale Avenue East Hanover, NJ.
God bless you and keep you safe, Monica. You will be missed.