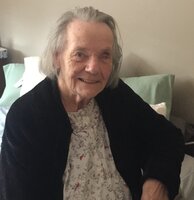 Janice Louise Todd DiScala
Janice L. Discala, 88, formerly of Norwalk, CT, passed away peacefully at Green Hill Senior Living in West Orange, NJ, on August 9, 2021.
Janice was born in Cody, Wyoming, and has lived in Culpeper VA, Organ NM, Colorado (Brighton, Pueblo, Grand Junction, Texas Creek, and Howard), and Norwalk, CT, before moving to West Orange in 2019.
She was pre deceased by her father, Aldus B. (Jack) Todd, her mother Iva Morton Todd, her brother Jack of Hanford CA., her brother Harold M., and a sister that passed in her adolescence.
She is survived by her loving children Rebecca Tuttle, George A. DiScala III, Jackie Massey, and Todd DiScala, sixteen grandchildren, and many Great grandchildren, and many, many friends.
Jan was the original manager of the Eric Allen men's store, and Gentlemen's Warehouse at the Factory Store in Norwalk, and adored among the many who worked and frequented stores. She was also often found in the company of her best friends, Lillian Mola, Fran Santo, Cookie, Pat Bunting, and so many others that she truly loved. In New Mexico she was the owner of an antiques store called Jan's Attic and a Dog Grooming shop called The Mutt Hut. Divorced at the age of 37 with 4 children in tow, Jan refused to go on welfare and worked many jobs to keep her family afloat. Ap dedicated mother above all else Jan sacrificed all else to be able to provide security, comfort and love to her children.
Memorial celebrations will be held:
Thursday, September 9 from 5:00 PM to 8:00 PM at The Rixey Manor, 9155 Pleasant Hill Drive, Rixeyville, Virginia
and Saturday, September 11th, at 11:00 a.m. at Parkway Assembly of God church, 260 New Canaan Ave. Norwalk, CT, for friends and family.
A celebration of her life will be held in the Fellowship Hall, located at the church, immediately following the service.
If you knew Jan, or knew her as 'Aunt Jan', we would love to see you and visit, and reminisce with you.
We are blessed with the use of the facility through the afternoon and into the night, so we have plenty of time to visit.
We hope to see you, and look forward to being blessed by your wonderful stories of our mom.
In loving memory of
Janice, Louise Todd DiScala.
11/24/1932 - 08/09/2021
For more information or to send condolences, please visit https://jacobhollefuneralhome.com/tribute/details/10154/Janice-DiScala/obituary.html