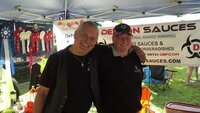 John H. Dilley III
John H. Dilley III, 56 of New Providence, NJ passed away on September 4, 2021 at Morristown Medical Center.
John was born in Peekskill, NY and has lived in New Providence since 2004. He received a Bachelors Degree in Business and International Marketing from Kean University.
Most recently he was Senior Credit Analyst for DSV Air & Sea in Edison, NJ. He was also President (known to many as The Creator) of Defcon Sauces LLC and very well respected in both the hot sauce and chili industries. His hobbies included the PACA Club of New Providence, scuba diving and the North-South Skirmish Association shooting team. He was also a Pokémon Go Player extraordinaire (Level 47). Of note is the fact that he was a champion for and a lover of rabbits.
John is survived by his wife, Margaret "Maggie" Brown Dilley, father, John H. Dilley Jr.,
mother, Eileen McGuire Dilley, sister, Erin Davis (John), brother-in-law, Joshua Brown (Nicola) and seven nieces and nephews.
A Celebration of Life will be held at a later date. In lieu of flowers,donations to https://www.gofundme.com/i-lost-the-love-of-my-life-to-covid would be appreciated
For more information or to send condolences please visit jacobhollefuneralhome.com