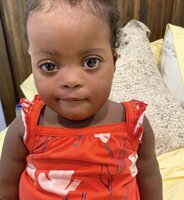 Leah Marie Cochrane
For Leah's loved ones unable to attend her Service, we will be making it possible to attend online via livestream please click on the link below:
http://client.tribucast.com/tcid/5815330688
Leah Marie Cochrane was gifted to Romaine Cochrane and Janet Hogarth on June 15th 2020. The doctors decried that she came too early but, in true Leah Marie fashion, she entered this world on her own terms and schedule. Leah blessed us with her presence for fifteen months and during that time she was a force to be reckoned with. Leah Marie was fearless and a fighter much like the lion which she loved. Leah was also a "sassy little thing" with an award winning personality; she was filled with so much curiosity and at times, was a bit too smart for her own good. Leah had the most beautiful and piercing eyes that seemed to penetrate your soul. Leah Marie was our pride and joy; she was truly loved and will be severely missed. Leah was indeed a godsend and her sudden passing has left a void in our hearts and lives that may never be filled. We her parents take solace in the realization that during her brief time our daughter left an undoubtable and powerful mark in this world.
Leah Marie aka Ms. Marie, Ms. Leah Marie, Le-Le, Putty-Pie, Put-Put, Sour Patch, Grump Fish and Princess Leah is survived by her parents Romaine Cochrane and Janet Hogarth; great grandparents Victor and Oda Hogarth, grandparents Veda Lopez and Delroy Hogarth; granduncles, grandaunts, uncles, aunt, cousins, other relatives, friends and her pet dog Precious.