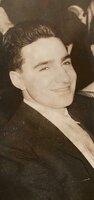 Carmen M. Grieco
Carmen M. Grieco, 98 of Springfield formerly of Maplewood passed away peacefully at home surrounded by his family on Monday, September 28, 2021.
Carmen was born in Newark before moving to Maplewood with his family, where he resided for over 50 years. He ran his family plumbing business, CM Grieco Plumbing where he was able to serve his community from 1946, eventually retiring in 2012. Carmen was a member of the Springfield Elks for over 50 years and enjoyed showcasing his cooking skills. He will be remembered for his love of food, wine, and family gatherings.

He is predeceased by his wife Jennie Grieco (Leonardo) sisters Ann and Angie, brothers Lenny and Joe. Carmen is survived by his son Michael Grieco and his wife Lucia, grandchildren Elaine, Gina, Michael Jr., Marc, Janine, sisters Faustina, Mickey, Isabelle, sister-in-law Angelina and his 7 great grandchildren.
The family will be receiving family and friends at The Jacob A. Holle Funeral Home, 2122 Millburn Ave, Maplewood on Friday, Oct 1st from 4:00 to 7:00 followed by a prayer service at 7:00 PM.

The family is asking in lieu of flowers that donations be made to St. Jude Children's Research Hospital, 501 St. Jude Place, Memphis, TN 38105-1905 would be appreciated.
For more information or to send condolences
please visit jacobhollefuneralhome.com