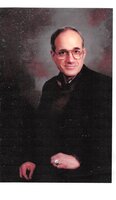 Bernard Alfred Flanagan
For Bernie's loved ones who are unable to attend his Memorial Mass in person the Mass will be lived streamed please click on link
https://boxcast.tv/view/funeral-mass-for-bernie-flannigan-600605
Bernard A. Flanagan, 85, of Maplewood passed away on Sunday October 3, 2021.
A Memorial Mass will be held at St. Joseph's Church, 767 Prospect St., Maplewood on Oct. 26th at 10AM.
Mr. Flanagan was born in Newark and resided in Maplewood for 41 years. He served in the US Army from 1960-1962. He received his Bachelors Degree from Rutgers University in Sociology with honors. He was a printer with the Newark Public Library for fifty years. He was a member of the Knights of Columbus at St. Joseph's Church and a member of the 3rd order of St. Francis in New York City. He was also a tour guide for 25 years at Cathedral Basilica of the Sacred Heart in Newark.
He was predeceased by his brother John Vincent Flanagan.
He is survived by his twin sister Dolorita (Dolly) A. Malit, brother Edward J. Flanagan and his wife Pat, and his beloved nephew and godson Joseph M. Malit. Bernard is also survived by his nieces and nephews, his dear friends Fr. James Worth, and his breakfast club family and his sister- in-law and friend Margaret Flanagan.
For more information or to send condolences please visit jacobhollefuneralhome.com