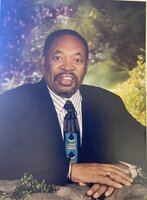 Rev. Dr. Barry L. Hopkins
For loved Barry's loved ones who are unable to attend his Funeral Service in person the Service will be lived streamed starting at 2:00 PM please click on the link below
https://client.tribucast.com/tcid/1312382965
Rev. Dr. Barry L. Hopkins, 78, of Union passed away at South Mountain Rehabilitation Center on November 2, 2021. The family will be receiving friends at Preston Funeral Home, 153 South Orange Ave, South Orange on Tuesday, Nov 9th from 2:00 – 3:00 PM, followed by a service at 3:00 PM. Interment is private.
Barry was born in Stamford, CT and has lived in VA and PA before moving to Union in 2000.
He received his bachelor's degree from Virginia Union University in Richmond, VA and his doctorate degree from Lancaster Theological Seminary. He was a preacher most recently at First Baptist Church in Vauxhall.
Barry is survived by his wife M. Christine Reede Hopkins; children Letha Kaminski, Twe, Adrian, Malik and Marques Hopkins, and his brother Craig Hopkins.