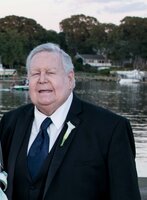 Russell C Norris
Russell C. Norris, 77, of New Providence passed away on November 21, 2021 at his residence. Born in Newark NJ, raised in South Orange. Russ also lived in Union and Roselle Park before moving to New Providence, NJ. He worked for Verizon for over 20 years before retiring. Russ was an avid Yankees fan. Mr. Norris was a Vietnam Veteran and served in the US Army, 809th Engineer Battalion.
Russell was predeceased by his parents Russell A. Norris and Marjorie Norris and also his brother James Norris. He is survived by his son, Daniel Norris (Kelly), daughter, Lauren Norris, step daughter, Donna Cannon Miller (Mike), sister, Germaine Uhlman and niece, Jessica Uhlman.
Funeral is private. Arrangements by the Jacob A. Holle Funeral Home, Maplewood.
In lieu of flowers donations to the American Diabetes Assoc, PO Box 15829, Arlington, VA 22215 would be appreciated.
For more information or to send condolences please visit jacobhollefuneralhome.com