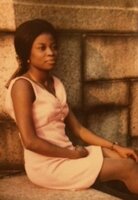 Claudette Fleury
Claudette Fleury, 73 of Maplewood, NJ, was called home to our Lord on November 23, 2021 at St. Barnabas Hospital, Livingston, NJ.
Claudette was born on December 4, 1947 in Port-au-Prince, Haiti to Albert Cadet and Carmen Jean-Pierre, who preceded her in death.
Claudette migrated to the United States in 1967, at the age of 19. She worked as a nursing assistant for 29 years at United Hopsital in Newark, NJ until 1996. She earned her Associates degree in Radiology, from Essex County Community College; she worked as an xray tech part-time at various hospitals. She later worked as a Medical Biller for St. Barnabas Ambulatory Center, until she retired in 2010.
Claudette was a pillar of strength and lived her life fully grounded in her faith. Claudette devoted herself to her children and grandchildren, making sure she imparted in them all of her life lessons, morals and values. She ensured her family never lacked for anything, every need and an abundance of wants were always fulfilled. She was very generous with everything she had, if someone was in need she made sure she would share with them whatever she had; she loved to coupon shop, so she could always have a supply of goods to give to everyone she encountered. Claudette, loved spending all her time with her grandchildren, picking them up from school, cooking their favorite meals, and being present for all their school and extracurricular activities. Claudette was also passionate about politics, and loved engaging others in conversation; you could always find her home watching CNN.
She is survived by her daughters Nadege Garland and Tatiana John (Maurice); sisters Gloria Beauvais and Daniella Morissant; grandchildren Raven DesJardins (Andrew), Daniel Garland, Trinity John, Destiny Hudson, and Ryan John; great-grandson Zyahn Garland, as well as many nieces and nephews.
Relatives and friends are invited to attend the Funeral Mass at St. Michael the Archangel Roman Catholic Church, 1212 Kelly Street, Union, on Saturday, December 4th at 9:15 AM. Interment will be private. Visitation will be held at The Jacob A. Holle Funeral Home 2122 Millburn Avenue Maplewood, NJ on Friday, December 3rd from 5:00-8:00 PM. For more information or to send condolences please visit jacobhollefuneralhome.com