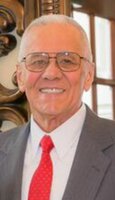 Anthony T. Nardone
Anthony Thomas Nardone, 84, passed lovingly into the arms of the Lord on Friday, December 3, 2021, surrounded by family.

Anthony was born in South Orange, New Jersey, and was a lifelong resident of Maplewood, New Jersey. He was one of five siblings and the youngest son of Filomena Petrozello and Anthony Alfonzo Nardone. A gifted athlete, Anthony played varsity football and baseball at Columbia High School in Maplewood. He was only a sophomore when asked to play first base, and helped his team win the New Jersey State Championship. Anthony would go on to play college football for the George Washington University in Washington, D.C. His football career would be cut short due to injury, and his team would go on to win the prestigious Sun Bowl under Coach Bo Sherman in 1956.

Anthony would return home to work as a successful businessman and meet his devoted wife, Incoronata "Tina" Lungari. The two married and lived in Maplewood where they would raise their children.

Anthony was predeceased by his parents, his brother Vincent "Doc" Nardone of Marlboro, NJ, and brother-in-law Richard Barba of Bay Head, NJ. He leaves behind his loving wife, children, grandchildren, and friends throughout the area. He was known for his sense of humor, quickness, wit, charm, and "typical Tony" remarks. Anthony loved fishing, birds, nature, the NY Yankees, airplanes, long drives, Robert Frost poems, movies about Italian life, Rockport shoes, pizza and pasta, and spending time with his family and loved ones.

Viewing for family and friends is Thursday, December 9, 2021, 9:30-11:30am at The Jacob Holle Funeral Home, 2122 Millburn Avenue, Maplewood, NJ 07040. Funeral mass will follow at Saint Rose of Lima Church, 50 Short Hills Avenue, Short Hills, NJ 07078. Flowers may be sent to The Jacob Holle Funeral Home.