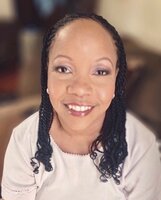 Yasmine A. Stennett Toles
For Yasmine's loved ones unable to attend her Funeral Mass, we will be making it possible to attend online via livestream please click on the link below:
Yasmine Angelique Stennett Toles was born on August 10, 1968 and passed away on December 4, 2021 at the age of 53 after a courageous battle with cancer. She was born in Kingston, Jamaica, West Indies to Henry Ransford Stennett and Velta Pearl Stennett (nee Tomlinson). As the youngest of five siblings, she was adored and nurtured in a loving Christian home.
Affectionately known as "Diane" or "Yas", she started infant school at age four and transferred to Saint Peter and Paul Prep School at age six. She attended Campion College High School at age eleven and completed the 5th form. She and her brothers arrived in the U.S. in 1983 and in 1984, always a scholar and eager to advance her knowledge, she went on to receive her Bachelor's ('88) and Master's degrees ('91) in computer science from the New York Institute of Technology in Old Westbury, N.Y. She worked for a number of years at her alma mater before gaining employment at the Bank of New York and the merged Bank of New York Mellon for twenty-two years as a Vice President in charge of software analysis. She received numerous commendations and awards during her employment and won the esteem of her colleagues through her hard work, professionalism, and commitment to her team and organization. She met her future husband, Alex, in 2006 and they were wed on June 19, 2016.
The simplest pleasures in life brought her great joy. She was a huge fan of Mickey and Minnie Mouse and shared a passion for cinema with her husband, Alex. While their time together was altogether too short, they put a lifetime into the moments they had… traveling, attending conventions, visiting with friends, and delighting in each other's company.
She is preceded in death by her parents, Velta Pearl and Henry Stennett. Those left to cherish her memory include her beloved husband and soul-mate, Alexander Toles; the children she loved and called her own, Njeri, Alexander, and Omar Toles; siblings, Memory "Dawn" Stennett-Dawkins (Lessep Dawkins); brother Arthur "Dave" Stennett (Corine), William "Dean" Stennett (Myrofora), and Richard "Dale" Stennett (Alicia); nieces, Kimberly Dawkins and Alexandra Stennett; nephews Sean Dawkins and Joel Ross Stennett; and great-niece, Diana Pearl Dawkins. She will live on in cherished memory through her dear cousins Norma and Alkian Andrews and their children. Friends and colleagues will long remember her infectious smile and the joy she spread. Her lifelong friendship of 45 years with Sylvia, Muna and Zain is a living testament to the life she lived and the lives she touched.
Her life was a blessing to all who knew her.