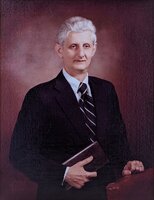 Stephen N. Maskaleris
Stephen N. Maskaleris, influential trial attorney, legal educator, World War II veteran and jazz musician died at his home surrounded by loving family in Short Hills on December 9. He was 94. Mr. Maskaleris was the beloved husband of 67 years to Corinne Pappas Maskaleris.
The son of Greek immigrants Nicholas and Kalliope Maskaleris, Stephen was born in Newark in 1927. He was a graduate of Columbia High School, Seton Hall University and Rutgers Law School where he was the winner of the Law Week Award in his senior year. During his 61 years of active law practice, Mr. Maskaleris formed a multitude of innovative legal societies and services.
Mr. Maskaleris served as a governing delegate of both the New Jersey and American Bar Associations, founded the ABA Senior Law Division and Junior Law Division, and served with distinction as a member of the ABA Death Penalty Representation Project for over twenty years, in keeping with his devotion to preserving equal access to justice for all defendants. He was also a member of the New York Bar Association.
In 1962, Mr. Maskaleris was instrumental in the formation of the New Jersey Office of the Public Defender. This replaced the previous system wherein courts would appoint lawyers of all types, whether or not they practiced criminal law, to represent defendants in criminal cases. Mr. Maskaleris later worked on several high-profile cases, such as defending the accused Russian spy John William Butenko in a federal case brought by the Department of Justice. He represented numerous individuals charged with murder throughout the 1960s and 1970s. Mr. Maskaleris had a lifelong commitment to sparing his clients and all human beings from capital punishment. None of his clients ever received the death penalty.
During his career, Mr. Maskaleris taught Continuing Legal Education courses to generations of newly minted lawyers through the NJ State Bar Association. His law firm, Maskaleris & Associates of Newark, Morristown and Florham Park, represented plaintiffs injured by medical malpractice, as well as product failure and liability.
Mr. Maskaleris played bass and tuba in the United States Air Force Band of Washington D.C., and the Air Force Replacement Band following the 1944 death of Glenn Miller in an airplane crash in the English Channel. A bassist, he also performed with several name bands at the time including The Clooney Sisters, Sammy Kaye, Bobby Byrne and Tommy Tucker. In later years, he often appeared in New York nightclubs accompanying his daughter Sue Maskaleris, a jazz musician, and most recently at the Millburn Free Public Library. He was an active member of his high school alumni class.
Beloved by his family, he is survived by his wife Corinne, daughters Susan Corinne Maskaleris and Carol Christine Maskaleris Ball, her husband Frank Alston Ball and grandchildren Frank Alston Ball, Jr. and Madeleine Corinne Ball. His younger brother Constantine Maskaleris predeceased him. Mr. and Mrs. Maskaleris had a passion for travel and took their children and later their grandchildren on many trips to Greece, Europe, Asia and throughout the United States.
Mr. Maskaleris' presence was felt in the room. He was listed in the "Marquis Who's Who In America" and proudly served on over a dozen professional and civic organizations. Those wishing to honor Mr. Maskaleris may make contributions to The Ila Foundation, a non-profit corporation formed by Mr. Maskaleris that supports his twin interests: legal defense and appeals for the under-represented, as well as organizations devoted to musicianship and youth wellbeing. Donations can be sent to the Ila Foundation at P.O. Box 92, Millburn, NJ 07041. His family will hold a private service for his life.