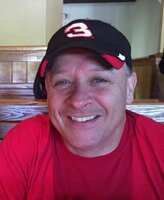 Philip A. O'Grady, Jr.
For loved Philip's loved ones who are unable to attend his Funeral Mass in person the Mass will be lived streamed on Monday, Dec 10th starting at 11:15 AM please click on the link
https://www.youtube.com/user/Stroseshorthills
Philip A. O'Grady, Jr., 52, of Warren, passed away suddenly on Monday, January 3, 2022 at his residence.
Relatives and friends are invited to attend the Funeral Mass at St. Rose of Lima Church, 50 Short Hills Avenue, Short Hills, NJ, on Monday, January 10th, at 11:15 AM. Interment is Private. Visitation will be held at The Jacob A. Holle Funeral Home, 2122 Millburn Avenue Maplewood, NJ on Sunday, January 9th, from
2-6 PM. In lieu of flowers, donations to St. Jude Children's Research Hospital, 501 St. Jude Place, Memphis, TN 38105-1905 would be greatly appreciated.
Philip has lived in Warren, for the last 9 years, and was formerly of Union.
Philip was a Carpenter for, and a member of, the Eastern Atlantic Sales Regional Council of Carpenters Local #254 for many years. Philip came from a large family. He was a very loving husband and devoted father. He was the number one fan of his children, never missing a game or a dance recital. He made strong friendships wherever he went and was loved by his family and friends. Philip was always there to give you a helping hand with a smile on his face, and more than likely, a good belly laugh with his humor.
He is predeceased by his father Philip A. O'Grady, Sr. and sister Patricia Morrison. He is survived by: his loving wife Irma O'Grady; children Philip O'Grady III and Ana O'Grady; his mother Patricia O'Grady; his siblings Kevin O'Grady, Dennis O'Grady (Adele), Colleen Cunningham (Bernie), and Eileen Keating (Robert); his brother-in-law Tom Morrison; and his mother and father in-law Amiran and Eteri Sanamashvili. He is also survived by many nieces, nephews, cousins, great nieces and great nephews.