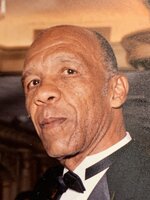 Roland Berthoumieux
Roland J. Berthoumieux, 87, of West Orange, NJ passed away at St. Barnabas Hospital in Livingston, NJ on Monday, January 3, 2022.
The Funeral is private. To send condolences please visit prestonfuneralhome.net
Roland was born in Port-au-Prince, Haiti, and lived in Baldwin, NY for almost 20 years. He was living in West Orange, NJ for the past 2 years. Roland graduated from Military School in Venezuela and was the Captain of Jean-Jacques Dessalines (GC-10) before coming to the United States, where he worked for New York Telephone in New York City as an engineer for 25 years. After retirement, he also worked for the Haitian Consulate in New York as the Commercial Attaché.
Roland was preceded in death by his son Henry Berthoumieux. He is survived by his beloved wife Solange Ambroise Berthoumieux, his loving children Rachele and Alex Berthoumieux, his grandchildren Elizabeth, Stephanie, and Elie, and great grandchildren Anthony, Jacob and Alexander; and countless extended family members. All held him in the highest regard and loved him dearly.