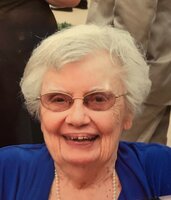 Elizabeth T. "Betty" Martineau
For Betty's loved ones unable to attend her Funeral Mass, we will be making it possible to attend online via livestream please click on the link below:
Elizabeth "Betty" Martineau (nee Tolan) of Califon passed away at Little Brook Nursing Home in Califon on January 12, 2022.
Relatives and friends are invited to attend the Funeral Mass at Our Lady Of Sorrows Church, 217 South Orange Ave, South Orange on Sat, Jan 22nd at 10:00 AM . Interment is private. Visitation will be held at Preston Funeral Home 153 South Orange Ave, South Orange on Friday, Jan 21st from 4:00-8:00 PM. In lieu of flowers donations to St Judes Childrens Hospital. For more information or to send condolences please visit prestonfuneralhome.net
Betty was born in Detroit, MI and has lived in Troy, NY; Albany, NY; Maplewood, NJ where she spent majority of her years; Doylestown, PA before moving to Califon 4 years ago.
She was predeceased by her husband Robert Martineau. Betty is surivived by her children Dave Martineau(Denise), Missy Eagan( Tom), John(Carla) and Joe(Janice) Martineau and grandchildren Kim Tack, Nicole Moreria, Danielle Martineau, Tom, John and Lauren Eagan, Jennifer Rodgers, Michael and Sarah Martineau, Ethan, Andrew, Matthew and Colin Martineau and 5 great-granddaughters. Lilah, Abigail, Rowan, Avery and Taylor