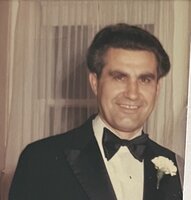 Leslie P. Pastor
Leslie P. Pastor, 96 of West Orange, formerly of Maplewood, passed away at Spring Hills in Livingston on Friday, January 21, 2022.
He was born in Majdan, Yugoslavia in 1925 and emigrated with his family to the US in 1950. He received his BA from Seton Hall in 1956 and his MA in 1959 and PHD in 1967 from Columbia. He taught German from 1956 to 1960 at Seton Hall Preparatory School in South Orange. In later years, he went on to become Professor in the Department of Modern Languages at Seton Hall University, and taught German and European History there until his retirement in 2010. Additionally, he taught European history at Rutgers from 1968-1972.
He is predeceased by his wife, Elizabeth Leckova Pastor who passed away in 1981, his wife, Catherine Perry Pastor, who passed away in 1992 and his special friend, Gizella Z. Frater, who passed away in 2016.
He will be lovingly remembered by his daughter, Elizabeth Pastor Murphy, and his granddaughter Mary Beth Mooney.
Interment will be at Gate of Heaven cemetery in East Hanover.