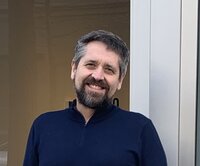 Francois Duvergne
For Francois's loved ones who are unable to attend his Funeral Mass in person the Mass will be lived streamed on Sunday, January 30th starting at 1:00 PM please click on the link
https://boxcast.tv/view/francois-duvergne-funeral-cq5mnt80koz5w5r5awqa
Francois Duvergne, 54 of Maplewood passed away at home on January 22, 2022
Relatives and friends are invited to attend the Memorial Mass at St. Joseph's Church, 767 Prospect Street, Maplewood on Sunday, January 30th at 1:00 PM. In lieu of flowers donations to American Cancer Society NJ, 7 Ridgedale Ave, Suite 103, Cedar Knolls, NJ 07927 would be appreciated. For more information or to send condolences please visit jacobhollefuneralhome.com
Francois was born in Poiters, France and raised in Ligre, France and has lived in Maplewood, NJ for over 10 years. He worked as a General Manager for 901D/ Curtiss-Wright in Monsey, NY for over 15 years.
Francois loved music, Rosé wine, fine Champagne Formula 1 races, old Cadillacs, sail boats, trains, astronomy, and funky footwear. Above all else, Francois treasured spending time with family and friends.
Francois was predeceased by his mother Andrea Duvergne. He is survived by wife Jessa Seremba, children Lorenzo and Paloma Duvergne, step children Gregory and Julia Seremba, father Jean-Pierre Duvergne and his sister Catherine Duvergne, and his brother-in law Cyrille Zmuda.