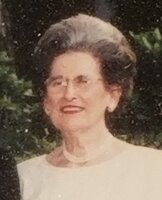 Judith Reilly McCarren
For Judy's loved ones unable to attend her Funeral Mass, we will be making it possible to attend online via livestream please click on the link below:
https://boxcast.tv/view/funeral-mass-for-judith-mccarren-prpb7cat8062adniorht
Judith R. McCarren, née Judith Ann Reilly, 89, of Livingston, died suddenly on Wednesday, January 19, 2022, after being brought by ambulance from her home to Morristown Medical Center.
Relatives and friends are invited to attend the Funeral Mass at St. Philomena Church, 386 S. Livingston Ave., Livingston on Friday, Jan 28th at 12:00 Noon with interment to follow at Gate of Heaven Cemetery, East Hanover. Visitation will be held at St. Philomena Church on Thursday, Jan 27th from 4:00 to 8:00. In lieu of flowers, donations to Immaculate Conception Seminary, 400 South Orange Ave., South Orange or St. Philomena Church would be appreciated. Please visit jacobhollefuneralhome.com for more information or to send condolences.
Judy was born in Pittsfield, Massachusetts, grew up mostly in Short Hills and East Orange, and soon after marrying lived in Short Hills for fifty years before moving to Livingston in 2007. She earned her bachelor's degree from Manhattanville College as her class valedictorian and, after her youngest son went to college, worked for Crum and Forster Insurance and subsequently served as secretary at St. Rose of Lima School in Short Hills.
Judith was predeceased by her husband, Deacon Daniel G. McCarren, Jr. and her oldest son J. Reilly McCarren. She is survived by her sons Rev. Msgr. Gerard H. McCarren and Mark J. McCarren, daughters-in-law Caren and Dana McCarren, and grandchildren Christopher, Kathleen, Keira, Connor, Kelly and Kevin.