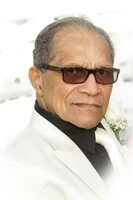 Osmund Van Ryck DeGroot
For Osmund's loved ones unable to attend his Funeral Service, we will be making it possible to attend online via livestream please click on the link below:
https://client.tribucast.com/tcid/7970266002
Osmund Godwyn Van Ryck DeGroot, age 89, of Orange, New Jersey, formally of Berbice and Georgetown, Guyana, passed away peacefully on Sunday, January 23, 2022 at St. Barnabas Hospital in Livingston, NJ.
Visitation will be held at Preston Funeral Home, 153 South Orange Avenue, South Orange, on Wednesday, February 2nd from 10:00 to 11:00 AM followed by a service at 11:00 AM. Entombment to follow at Hollywood Cemetery, 1621 Stuyvesant Avenue, Union.
In Guyana, he was a fireman and ministry with the Assemblies of God church until migrating to the United States in 1967. In The US he continued in the ministry as the assistant pastor at Assemblies of God in Brooklyn NY. He also attended Community Baptist Church in Montclair NJ. He was employed at Coca-Cola bottling company in Carlstadt, New Jersey from 1970 until retiring in 2001.
Osmund is predeceased by his daughter Gloria DeGroot, and siblings Shirley Ferguson, Barbara Seib, Jean DeGroot and Gary DeGroot. He is survived by his beloved wife Urla DeGroot, his loving children Colin DeGroot, Raymond DeGroot, Holly DeGroot-Russell, Debra DeGroot, and Mark DeGroot, as well as his siblings Aileen DeSilva, Michael DeGroot, Joan DeGroot, Geoffrey DeGroot, and Charles DeGroot, along with seventeen (17) Grandchildren, fourteen (14) Great-grandchildren, and one (1) Great great grandchild.