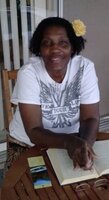 Ann R. Reyes
Ann Rosemary Reyes, was a caring wife, mother, grandmother, daughter, sister, aunt and friend. She left this world to soon surrounded by family on January 27, 2022.

She was born to Velma Stewart and George Springer, on November 11, 1950 in Port-of-Spain, Trinidad and Tobago. She met her husband, Emmanuel Reyes in Trinidad and was married on June 30, 1974. They had 3 children: Donnieann, Darnell, and Deion.

When her family relocated to the United States, Ann followed her heart to help others and became a Licensed Practical Nurse. She excelled and formed many meaningful relationships in her career as a nurse at Cheshire Home, until she retired.

Ann enjoyed learning. You could often find her with her glasses and a book or writing notebook. Her greatest passion was family. She enjoyed spending time with her entire family. She would love talking to her grandsons, Elijah and Xavier and celebrating life with them.

Her cooking was unmatched! Every meal was made with love and intent. The most delicious cuisine you would ever taste. She was never afraid to try new things and picked up a great hobby of cooking all different types of food and sharing it with her family. She bought us all so much joy. She had a heart of gold and would be the first one to help anyone. She gave the best advice even though sometimes it was hard to hear. She would always give her opinion in hopes that it would help and support. She was adventurous and always ready to make her family's life better. She was a fighter! She was as strong as she was sensitive. She was the best!

She leaves behind her husband, Emmanuel Reyes. Daughter, Donnieann Santos and sons, Darnell and Deion Reyes. Her son-in-law, David Santos and grandsons, Elijah and Xavier Santos who will love her always.

She is predeceased by her father, George Springer and brother, Luther James. She leaves behind her mother, Velma Stewart Greenidge, sisters Marlene Stewart and Derdrie James. In addition to many aunts, uncles, nieces, nephews, cousins, godchildren and friends who experienced her love and will miss her dearly.

Private cremation completed. In lieu of flowers please donate to the American Cancer Society.

We will love and miss you forever. Our beautiful Wife and Mother. You will always be one of one!