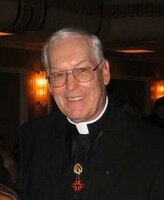 Reverend Robert P. Nestor
Reverend Robert P. Nestor, KCHS, Ed.D., 78, passed away at home in Bayville, NJ, on Saturday, January 29, 2022.
Father Nestor will be waked at the Immaculate Conception Chapel at Seton Hall University 400 South Orange Ave, South Orange, on Mon, Feb 7th from 6:00 – 8:30 PM. The Funeral Mass will take place at Immaculate Conception Chapel on Tues, Feb 8th, at 9:30 AM. Entombment to follow at Maryrest Cemetery in Darlington, NJ. In lieu of flowers donations to Seton Hall University would be appreciated.
Father Nestor was born in Jersey City and had lived at Seton Hall University before moving to Bayville in 2016 after retirement.He attended St. Aloysius High School in Jersey City, and received his bachelor's degree from Seton Hall University and Ed.D from Boston University. He was a Knight Commander of the Knights of the Holy Sepulchre.
Reverend Robert P. Nestor, KCHS, Ed.D., served Seton Hall for over 40 years. Father Nestor was a professor in the School of Education and served as Director of Planning and Institutional Research in the mid-1980's. He retired from active ministry in the Archdiocese of Newark and from the University in 2006, but remained active as a member of the Seton Hall Priest Community and a weekend assistant at St. Elizabeth's in Whiting, NJ until 2015.
Father Nestor was predeceased by his parents Patrick Nestor and Irene Coughlin, and by his sister Noreen McCormack. He is survived by his sister Kathleen Baldassare, niece Alayne Baldassare Fahrman (husband Brian) and nephew Frank Baldassare (wife Kelly Dworniczek). He was a loving great uncle to nieces Emily and Erin Fahrman, and Nola Baldassare. He also was a beloved dog owner to Mocha I, Mocha II, and Stirling.