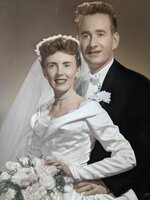 Agatha S Boyle
Agatha Steffanie Boyle nee Zrinko, 85, of Cranford passed away on Saturday, February 5, 2022 at Center for Hope Hospice in Scotch Plains.
Visitation will be held at The Jacob A. Holle Funeral Home at 2122 Millburn Avenue Maplewood, NJ on Thursday, February 10, at 10:00-11:00 AM followed by a prayer service at 11:00 AM. Interment to follow at St. Gertrude's Cemetery in Colonia. For more information or to send condolences please visit jacobhollefuneralhome.com
Agatha was born in Newark, NJ and has lived in Union for many years where she was a homemaker raising her family and was a member of Union Hospital Guild, before moving to Cranford 12 years ago.
She is predeceased by her beloved husband George A. Boyle, and her brother Elmer D. Zrinko. She is survived by her loving children Jeffrey S. Boyle, Matthew F. Boyle (Cathy), and her grandchildren Jack and Michaela.