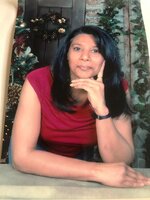 Marlyn A. Persaud
For Marlyn's loved ones who are unable to attend her Funeral Service in person, we will be live streaming starting at 10:30 AM on Monday March 7th, please click on the link:
https://client.tribucast.com/tcid/507660944
Marlyn A. Persaud, 65, of South Orange, formerly of Guyana, passed away at her home on Tuesday, March 1, 2022.
Visitation will be held at Preston Funeral Home, 153 South Orange Ave, South Orange, on Monday, March 7th from 9-10:30 AM. The Funeral Service will be held following the visitation at 10:30 AM Preston Funeral Home. Interment to follow at Fairview Cemetery, 1100 Broad Street, Westfield.
In lieu of flowers, donations in memory of Marlyn Persaud may be made to Abington Health Foundation / Asplundh Cancer Pavilion, 1200 Old York Road, Abington, PA 19001 or online at give.abingtonhealth.org/donate.
Marlyn was born in Guyana in 1957 moved to the United Stated in 2009, and has since resided in South Orange. She was a Human Resources Assistant for Home Depot in Queens, NY for over 10 years.
Marlyn is survived by her adopted son, Fabian Gandara, her mother, Violet Persaud nee Chinan, her siblings Yvonne Small (Terrance), Edwin Seeraj, Edna Murugan (Sam), Ena Hendricks, Enid Haddock (Robert), Cecelia Robinson, as well as many nieces, nephews, great-nieces, great-nephews, cousins.