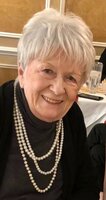 Mary Ellen C. Jellinek
Mary Ellen C Jellinek (nee Foley) of Stirling passed away at home on March 4, 2022.
The family will be receiving friends at Preston Funeral Home, 153 South Orange Ave, South Orange on Sunday, March 20th from 2:00 – 3:30 PM followed by a prayer service at 3:30 PM.
Mary Ellen was born in Englewood, NJ and lived in Maplewood for many years before moving to Stirling 15 years ago.
She was a homemaker raising her children and then later worked as a retail sales associate at the Short Hills Mall for over 20 years.
Mary Ellen was predeceased by her husband Robert Jellinek. She is survived by her children Tracie Stratakis (Nicholas), Lawrence Jellinek (Cathy) Elizabeth Imperial (Joseph),Robert A. Jellinek (Allison), sisters Michele Danese and Patricia Ziegler, 9 grandchildren Katie, John, Allie, Meggie, Tina, Kevin, Kaya, Anna, Grace, and 9 great grandchildren Julie, Lucas,Nikos, Roman, Benjamin, Julius, Isabel, Frank, and Khari.