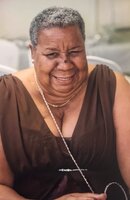 Eva C. Etter
Eva C. Etter, 74, of Newark, passed away on Tuesday, March 29, 2022, at St. Michael's Medical Center in Newark, NJ after a beautiful and long life surrounded by her children and nieces.
The Family will be receiving family and friends at The Jacob A. Holle Funeral Home, 2122 Millburn Avenue Maplewood, NJ on Saturday, April 2nd, from 3:00-4:00 PM, followed by a Prayer Service at 4:00 PM. Interment is Private.
Eva was born in Trinidad and Tobago, and had lived in Newark since 2004. She is one of 17 siblings and was a Retired Nanny. She loved children and traveling, and had a great passion for reading.
She is survived by her Daughter Staceyann Etter, Son Roger Etter, Sister Sylvia Neverson, Brother Gary Etter, Brother Timothy Etter, Sister Bernadine Etter, and many nieces, nephews, and cousins.