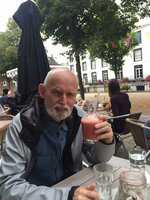 Derek J. May
Derek John May, 74, passed away on Friday, April 1, 2022, at hospice in Maplewood.
Relatives and friends are invited to attend the Memorial Mass at St. Joseph's Church, 767 Prospect Street, Maplewood, on Friday, April 8th at 10:00 AM. Interment is private.
Derek was born in Dartford, England. He was a veteran of the British Army, a published poet, and a passionate reader with a library of over a thousand volumes of fiction and poetry. He was an afficionado of boxing, jazz, and dogs.
Derek emigrated to the United States in 1971. He was husband to Catherine Harkins and father to Vanessa and Jon May. He was father-in-law to Patrick McDonough and Carla May. In his final years he was proudest of his four grandchildren.