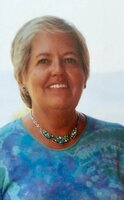 Eileen R. Lentz
Eileen Rosemary Lentz of Morris Plains, New Jersey, beloved mother and grandmother, passed away in her home on Tuesday, April 12, 2022 at the age of 82. Eileen was a bright, energetic, creative, welcoming and generous person who inspired her family, friends, and community.
Eileen was born in St. Louis, Missouri on December 4, 1939 to Barnard Clemens Lindemann and Hazel Eileen Lindemann. She graduated from Washington University with a Bachelor of Fine Arts in Fashion Design and spent her early career working in Brooklyn as a clothing designer. Eileen was an entrepreneur with boundless courage and determination. She started a business in the early 1980s, at a time when less than 10 percent of businesses in the United States were owned by women, and ran it successfully for nearly thirty-five years. She was meticulously organized and never afraid to take on a challenge. She had the ability to make plans and push projects forward. To Eileen, a setback was merely something you put in the rearview mirror. She raised three children as a devoted single mother with no family to lean on. She was an attentive, warm, and comforting parent, always available to her children despite the heavy demands of her business.
Before moving to Morris Plains in 2020, Eileen lived in Charleston, South Carolina for more than fifteen years where she developed a network of close friendships and lived out her dream of a coastal life near the beach. She loved to travel with friends to the Northern California wine country, cook for her friends, host wine tastings, and frequently enjoyed the arts, including ballet, modern dance, and theater. More than anything, she loved her family. There was nothing she looked forward to more than having her children and grandchildren visit her to spend mornings at the beach, afternoons baking cookies, and evenings eating out at Fish or NICO, her favorite Charleston restaurants.
Eileen was an active volunteer in her community. She donated her event planning expertise and services to Charleston's Spoleto Festival for several years. She organized volunteers who supported President Barack Obama's election to office in 2008, and offered her home as a hub for campaign activities. Over the years, she mentored teenagers through local youth programs. She was like a mother to many beyond her own children and grandchildren. Eileen will be dearly missed by her many friends and family.
She is survived and celebrated by her loving children Dean Lentz (Bettina), Christian Parker-Lentz (Joanna) and Katherine Virkstis (Matthew), sister Louise Lindemann, and grandchildren Anya, Kate, Jake, Una, Caleb, and Liam. A private memorial service will be held for immediate family. A timeline has been created at memories.net to help collect our memories in a single place online.