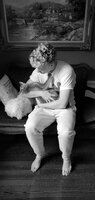 John Alexander Cartier
For John's loved ones who are unable to attend his Funeral Mass in person the service will be lived streamed on Tuesday, May 17th starting at 10:30 AM please click on the link below:
https://www.youtube.com/user/Stroseshorthills
IN LOVING MEMORY OF JOHN ALEXANDER CARTIER,
BELOVED SON, FRIEND AND LIFELONG MILLBURN/SHORT HILLS RESIDENT.
John passed away suddenly May 6, 2022 at age 19. He was born November 10, 2002 in Summit, NJ, the only beloved child of Jan Cartier and Olga Ulitina.
A Memorial Mass will be held at St. Rose of Lima Church, 50 Short Hills Ave, Short Hills on Tuesday, May 17th at 10:30 AM.
John grew up in Millburn/Short Hills and attended South Mountain Preschool and Elementary School before transferring to Glenwood Elementary School and moving up to Millburn Middle School. John was excited to graduate from Milburn High School in June of 2021.
John had an infectious smile and big heart. He was a good friend and trusted confidant of many. He would always lend a hand or help those in need. He was never too busy for anyone and stayed active with many hobbies and pursuits.
John enjoyed spending time with friends at local parks and at the beach, or cliff jumping. The sun and water were constant joys for John, despite his fair complexion. John loved sports and excelled at athletics. He was a third-degree black belt in Taekwondo and loved parkour, tennis, archery, skateboarding, boxing, and spending time at the gym. John could constantly amaze his friends by pulling off a perfect backflip from a standing position at any time. Fortnight was a passion; he was an accomplished player who also loved traditional games like chess, winning multiple chess competitions throughout his lifetime.
John had a fabulous sense of humor and was happiest playing pranks on any unsuspecting targets. He loved social media, posting videos of his adventures. John volunteered at Special Dragons his Taekwondo school in Union and helped disabled children learn the sport. He also volunteered at church and spent time painting and improving property at St. Rose of Lima Church.
John played the piano and loved all animals, especially dogs and cats. He supplied endless ear and chin scratching and belly rubs to furry friends. He so loved his bichon "Charlie" and his two year old cat "Kotik".
John will be remembered for his passion for life and adventures, selflessly sharing his time and talents with others. He leaves a big hole in the hearts of many local families who considered John as a brother or a son. He will be deeply missed by all his family and friends.
John is survived by his parents, aunts/uncles and cousins. He is preceded in death by grandparents.
In lieu of flowers, the family requests donations to Carl's Cat, Inc. in any of three ways:
A check can be mailed to P.O. Box 4594, Warren, NJ 07059. Please include a note explaining the reason for the donation or use the memo line on your check
Venmo donations can be accepted @carlscatsinc
PayPal donations are accepted at the following link: paypal.me/carlscatsinc