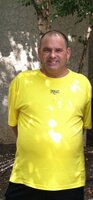 Lincoln Berlin
Lincoln E. Berlin, 57, of South Orange passed away on Sunday, May 29, 2022. Lincoln was an active member of Jespy House of South Orange for over 35 years, one of its original eight residents. He worked at Central Lewmar Paper Company for many years and then in the Food Services Industry at various locations including Giant Stadium and Montclair State University. Lately, he had taken up dog sitting.
Lincoln was a tremendous and dedicated sports fan of the Jets, the Mets, the NJ Devils, and the Brooklyn Cyclones. He could be seen cheering (and sometimes jeering) at many home games and local sporting events. He was a beloved regular at many Seton Hall games as well.
Lincoln was passionate about sports and kind and loving with his family, friends, and his partner of over ten years, Michelle. He was a unique and charismatic individual who left a huge imprint on all who knew him.
Lincoln was predeceased by his father Harold Berlin and his half brother Danny Berlin. He is survived by his longtime companion Michelle Oliwenstein, mother, Susan Dworkin and stepfather, David Dworkin, sister Rachel Berlin (Gene), nephew Jonah Berlin Bowen and half brothers David Berlin (Jodi) and Gary Berlin (Dana) and step sister Elizabeth Dworkin (Michael).
Donations can be made in his memory to The Jespy House, 102 Prospect Street, South Orange, NJ 07079 or the MAGIC Foundation, 4200 Cantera Dr. #106, Warrenville, IL 60555.