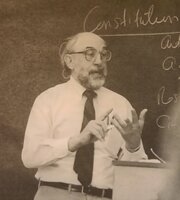 Richard P. Adinaro
Dr. Richard P. Adinaro, 93, of South Orange, died peacefully at home on Monday, June 6, 2022, surrounded by family.
Relatives and friends are invited to attend the Funeral Mass at Our Lady of Sorrows Church, 217 Prospect Street, South Orange on Friday, June 10 at 9:30 a.m. Interment is at Gate of Heaven Cemetery, E. Hanover. Visitation will be held at Preston Funeral Home, 153 South Orange Ave., South Orange on Thursday, June 9 from 4:00 - 8:00 p.m. For more information or to send condolences, please visit prestonfuneralhome.net.
Richard joins his beloved wife, Sandra, who predeceased him in 2014. He is survived by his children David Adinaro (wife Liz), Matthew Adinaro (wife Jeni), and Christine Braile (husband Hugo), along with nine grandchildren- Brendan, Kyra, Hannah, Daniel, Abigail, Christopher, Patrick, Calvin, and Declan.
Born in Mount Vernon, NY to Italian immigrants, Richard was the youngest of 12 siblings. He was the last surviving member of his generation of Adinaros. He graduated from Edison Technical High School. He enlisted in the Army in 1946 and served in Japan until 1948. Richard graduated in 1953 from Iona College, where he lettered in several sports. He earned his Master's degree in 1958 and PhD in 1973 from Fordham University. Richard taught political science for 39 years at Seton Hall University. He retired in 1997 as Professor Emeritus. He had served as department chair, founding director of the Center for Public Service, and academic monitor for athletics. His favorite place was the classroom, where he was feared by some and loved by many.
He was a lifelong Democrat and an advocate, along with his wife, for the cause of civil rights. One of the many events they participated in was the historic 1963 March on Washington. In his retirement he continued to be a devoted father and grandfather, a favorite uncle, and committed community member. He also remained deeply passionate about the Yankees, Seton Hall basketball, politics, golf, cigars, poker, the New York Times, and nearly anything he could argue about.
In lieu of flowers, please donate to Seton Hall University.