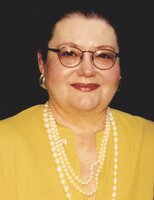 Esther M. Spiotta
On Thursday, June 16, Esther Moskos Spiotta, loving wife of Roland and mother of four children, six grandchildren and three great grandchildren, passed away peacefully in her Maplewood home. Esther was 95. Born in Schenectady, New York, Esther was a graduate of the Rhode Island School of Design in Providence, Rhode Island where she met her future husband, Roland while he attended Brown University.
Esther is survived by her husband Roland, 96, and her four children, Georgia Mentzer, Sharon Donna Jones, Joseph Spiotta, and Elisabeth Kravitz; her six grandchildren Cristina Jones Bonfiglio, Stephanie Jones, Joseph Edward Spiotta, William Spiotta, Sammy Kravitz and Max Kravitz; her great grandchildren Francesca and Daniela Bonfiglio and Jonah Spiotta; her beloved sons-in-law Paul Jones and Dean Kravitz, daughter-in-law Chi Spiotta, grand-son-in-law Jason Bonfiglio, and grand-daughter-in-law Alyssa Spiotta; and her dear sister Fanny Karamanos of Saratoga, New York. Esther was predeceased by her beloved son-in-law Barry Mentzer and her dear sister Georgia Assenheimer.
Although raised Greek Orthodox, Esther was an active member of St. George's Church in Maplewood for more than 65 years. A Sunday usher and member of the Altar Guild, Esther chaired several Christmas Bazaars, and founded the church's first youth group back in the '60s. She was also one of the star hostesses of Dinners for Eight, a rotating dining club for parishioners. A consummate hostess, Esther's Christmas Eve buffets after Midnight Mass were legendary, and she entertained many friends and families at her Osterville, Massachusetts home. Her Cape Cod guest book reads like a "Who's Who" of St. George's.
A talented artist and gourmet cook, Esther was a self-avowed perfectionist who had a passion for fine dining. She never missed Manhattan's Restaurant Week, but was also known to enjoy a good hot dog from the grill. Every day, Esther faithfully completed The New York Times crossword puzzle, in ink, and loved to play competitive games of Boggle with her grandchildren, who viewed beating her as a rite of passage. Esther could be found cheering for the Mets or her favorite basketball team, the Golden State Warriors, or shepherding her children or grandchildren through the sculpture garden at Manhattan's Museum of Modern Art, The Ballantine House at Newark Museum or the New York Public Library at Christmas time to help trim their tree. She instilled in her children and grandchildren her passion for culture, art, theater and literature. Esther's passion for life and her independent spirit was infectious. A feminist before it was fashionable, she led generations of her family's women by example with her fierce independence and relentless insistence on living an authentic life.
Esther's passion, intelligence and spirit will be missed by all who were blessed to know her. In lieu of flowers, the family requests that donations be made to her spiritual home, St. George's Church in Maplewood, New Jersey.